Google Local Business listing
Enter Your Business Name and Address in the Search Box.

Select or Add Your Business.
Click on your business listing if it appears among the suggested matches. If not select "Add your Business", and provide the necessary information.

Verify Your Business
Google will want to verify that your business is located where you say that it is. This usually means waiting 1-2 weeks for a postcard with a verification PIN.
Occasionally you'll be given the option to receive your PIN by text message or or automated phone call – take it – it's much faster and easier!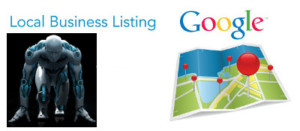 Google Local Search Ranking Factors
Using up-to-date contact information, physical address information, operation hours and photos on your Google Places account.

Maintaining consistency in NAP (Name, Address and Phone) between your Places page, website and Google+ Local.

Choosing an accurate business category.

Using a product or service-based keyword in the business title.

Using a location-based keyword in the business title.

The proximity of the business to the center of the specified search location.

High number of reviews.

Owner-verified page.

The length of time your brand has been on Google+ Local.

Having a complete profile.

Having videos with high-quality content associated with your Google+ Local page.
The Role of Social Media
For a local business, social media platforms play a significant role in deciding its local search ranking. Social media sites such as Facebook, Twitter, LinkedIn, Google+, YouTube and many others give a wide array of opportunities for positive brand exposure to your local audiences.
Gaining Google+, Twitter, Facebook and other social media site mentions of your brand.

Having a large number of likes on your Facebook page.

Encouraging content shares on Facebook.