BrewBase is an online brew management system designed for small batch breweries. BrewBase helps you manage brews from ingredient stock levels to which batch was sold to which person. Here are some of the features:
Manage ingredient stock levels

Automatically draws down from ingredients when recipe is brewed

Manage membership subscriptions

Sell shares online to members

Barcode scanner compatible

Brew Reports including excise tax

Track every share to the member that bought it

Members can view their purchase history online.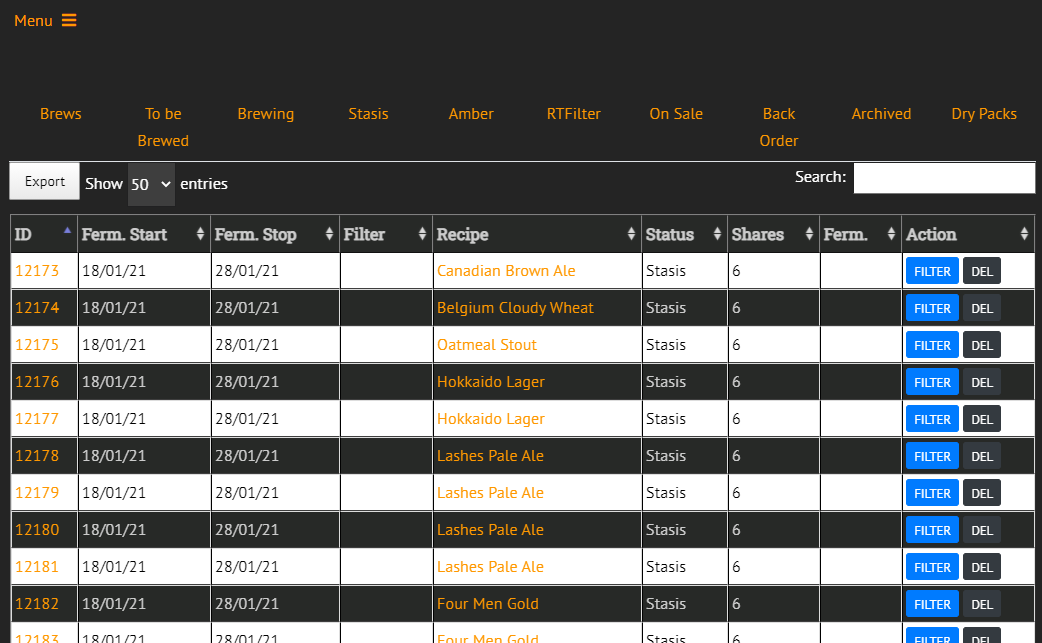 Brews

This table lists all brews except archived.

To be Brewed

Displays the brews that you have scheduled to be brewed

Brewing

Brews that are currently fermenting

Stasis

Brews that have been moved into the holding room where fermentation has slowed

Amber

Brews that have been holding for at lest 6 days
RTFilter

Brews that are ready to be filtered (10 days)

On Sale

Brews that have been filtered and still have available shares

Back Order

Brews that have been ordered and are not currently in the brewing system

Dry Packs

Dry Packs that have been ordered. (these also draw down on your ingredients based on the recipe)